---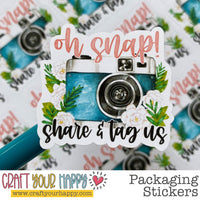 This sticker features a beautiful blue camera and flowers with a message to your customers to be sure to take a picture, share and tag you in it.  We all know how our businesses flourish by word of mouth and social media!  With such a pretty design, we're certain this will help your customers to remember to snap, tag, and share!

You've taken the time to create or source the perfect product.  Don't send your packages out naked!  These stickers are designed for small business use.  Packaging stickers add that perfect final touch to make your package stand out as it arrives on your customer's doorstep. You can place them on your rigid mailers, poly mailers, boxes, tissue paper, cello bags and so much more.
This product listing is for one set of stickers, which is 3 sheets.
Printed on premium bright white matte sticker paper.  These stickers are not waterproof and should NOT be used on any type of product that can get wet.
Approximate size: 1.7" x 1.6"
20 stickers per sheet; 1 set = 60 stickers
The product image is an actual photo of the sticker and while we've done our best to represent the colors as accurately as possible, there may be color variations depending upon your monitor settings or those of your browser/phone/tablet.
Design is Copyright © 2006-Present by Digi Web Studio (Leah Lackey). All Rights Reserved. (Some designer resources and clip art were licensed for use in the creation of this design.